Regular price
$34.99 USD
Sale price
$22.99 USD
Unit price
per
Save

$12.00
Sold Out
Repairs, nourishes & strengthens
Works for all hair types
Natural ingredients only
Ships from U.S.A
30 Day Returns
Repairs, Strengthens, & Nourishes all hair types
Introducing our transformative serum, a game-changer in your hair care routine. Unlock the secret to hair that exudes radiance, vitality, and sheer beauty. Elevate your hair care routine to new heights and let your hair become a mesmerizing masterpiece that tells its own story.
Ingredients:
Aqua, Hydroxyethyl Cellulose, Coconut oil, Vitamin E, Biotin, Sodium Acrylate/ Sodium Acryloyldimethyl Taurate Copolymer, Argan Oil, Parfum
Know our ingredients:
Our Conditioner is expertly formulated with an exceptional selection of ingredients that work in synergy providing extraordinary benefits for your hair!

Benefits:

Coconut Oil: Experience the ultimate moisturizing treatment as coconut oil works its magic, leaving your hair deeply conditioned, replenished, and radiantly healthy.

Vitamin E and Biotin: A dynamic duo that promotes hair growth, strengthens follicles, and reduces breakage. Watch as your hair transforms into a lush, voluminous masterpiece that turns heads wherever you go.

Argal Oil: Renowned for its exceptional nourishing and rejuvenating properties also provides an irresistible shine.

Sodium Acrylate/Sodium Acryloyldimethyl Taurate Copolymer: Formulated with the innovative Sodium Acrylate/Sodium Acryloyldimethyl Taurate Copolymer, our serum provides optimal styling control and heat protection. Whether you're rocking sleek straight locks or fabulous curls, our serum helps you achieve the hairstyle of your dreams while shielding your hair from heat damage

For best results, combine our shampoo, conditioner, and serum to create a comprehensive hair care routine that cleanses, nourishes, and protects your hair from root to tip. This dynamic trio works in harmony to promote optimal hair health, enhance shine, and improve overall hair manageability.
View full details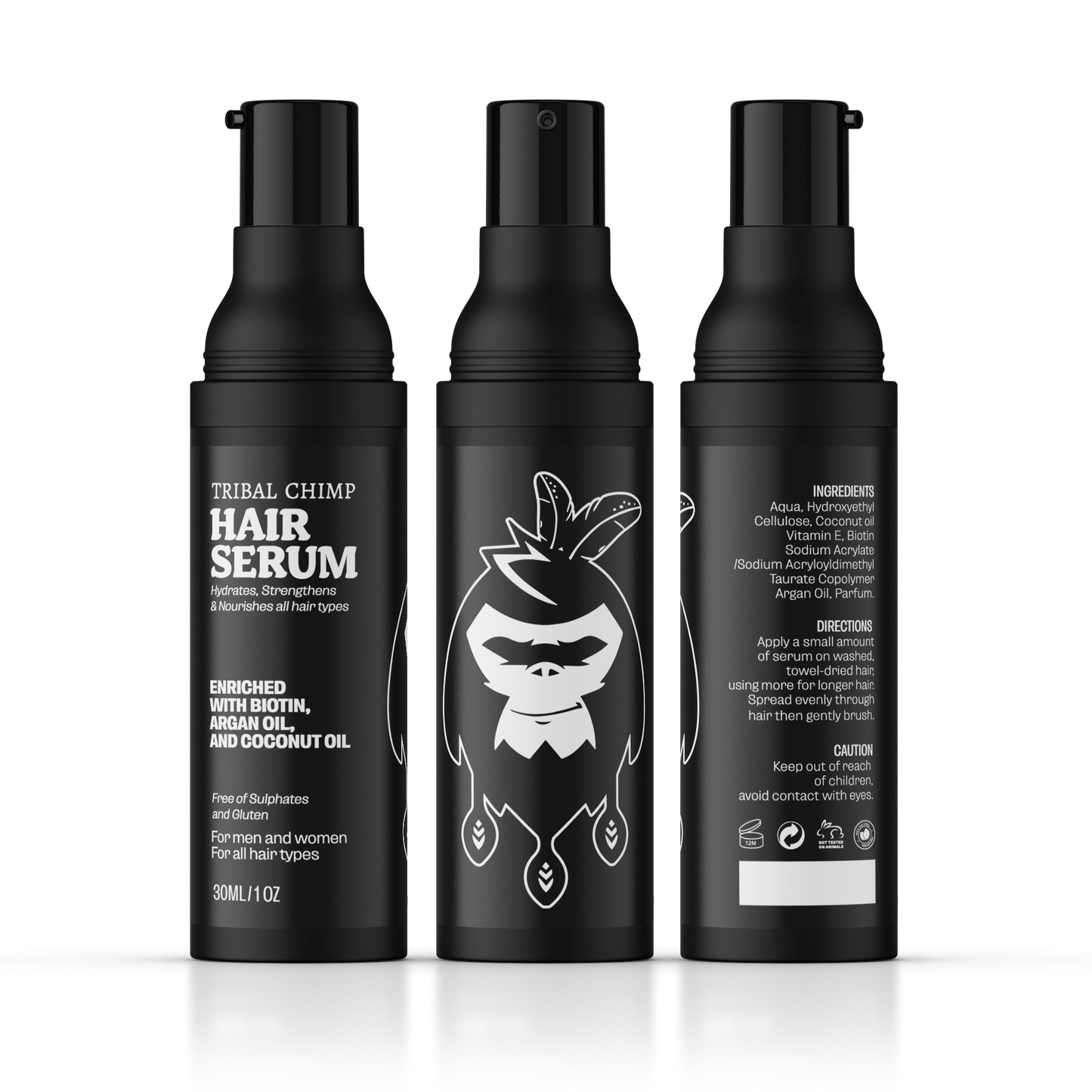 WHY TRIBAL CHIMP
100,000+ Happy Customers

Serving our customers since 2018. Over 100,000 customers keep coming back to Tribal Chimp and we guarantee so will you! Just read the reviews below!

30-Day Money Back Guarantee

At Tribal Chimp we understand it is hard to trust a product that looks too good to be true. That's why we're proud to offer our 30-Day Money-Back Guarantee!

Ships from the USA

Order delivery in the United States takes 2-5 business days. International orders take 5-10 business days for delivery.