Regular price
$19.99 USD
Sale price
$14.99 USD
Unit price
per
Save

$5.00
Sold Out
Ships from U.S.A
30 Day Returns
No more bad hair days!

Struggling with styling your hair? Tired of how dull & boring your hair looks? Stop wasting time, effort, and money on sticky & greasy hair products.
Transform your hair in SECONDS with our Hair Styling Powder!
Yup, it's that fast & easy. Once you try Tribal Chimp's Hair Styling Powder, there's no going back!

A good hairstyle is not just about looks; it enhances your self-confidence & attractiveness! Unlock your hair's full potential with our Hair Styling Powder!


Over 250,000+ customers keep telling us that they will never go back to using sticky hair gels anymore! Make sure you read the reviews at the bottom!


FEATURES:
Instant Volumizing Effect: Transform tired-looking hair in an instant by building a thick texture into your hair strands.
24H Long Lasting: Volumizes hair instantly & hold for a whole day.
Easy Usage: Doesn't require a professional hand to use and style.
Non-Sticky: Absorb oil from hair, texturing your hair without oily, sticky residue.
Natural Look: Seamlessly mixes in with your hair giving you the perfect 'no product' natural look!
100% Cruelty-free: No animal products are used in the product and the product has not been tested on any animals. 
Smells good: We have added a pleasant scent to the product. For the people who are always on the go. Perfect for college students!
Shipping Time

Order delivery to the United States takes 2-5 business days after processing. International orders take 4-10 business days for delivery after processing.
How to use

Sprinkle the Tribal Chimp - Hair Styling Powder on your hair evenly. 
Create your desired hairstyle using the Tribal Chimp - Hair Styling Comb or your fingers within seconds.
The hold will last for 24 hours. You can re-style your hair anytime you want.
Wash out easily with shampoo after each use. For the best results use on dry hair.

For best results use on dry hair
Ingredients

Aqua(Water/Fau), Silica Silylate, Benzoate-Octyl, Acrylamide/Acrylates, Butaminoethyl Methacrylate Copolymer, Citric Acid
View full details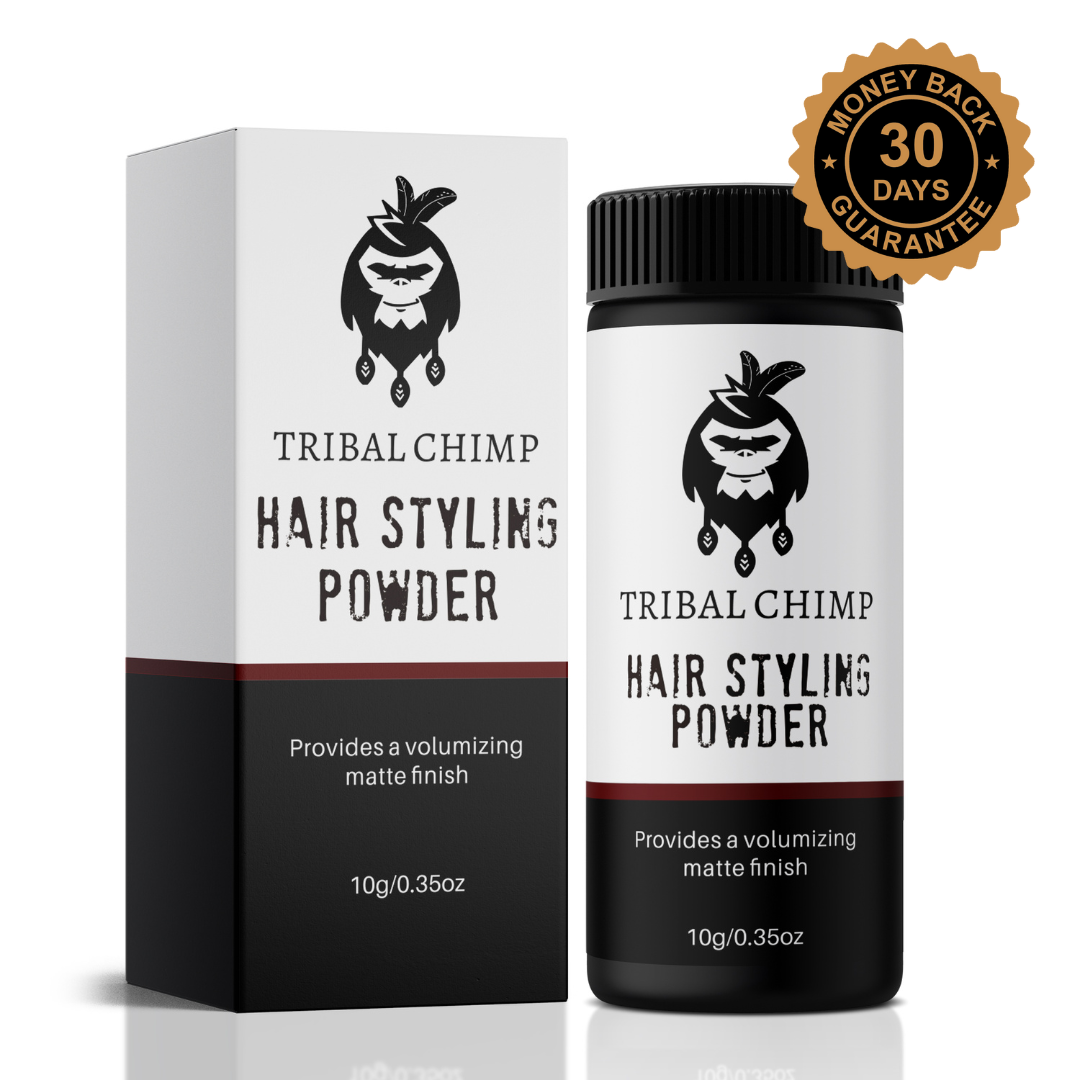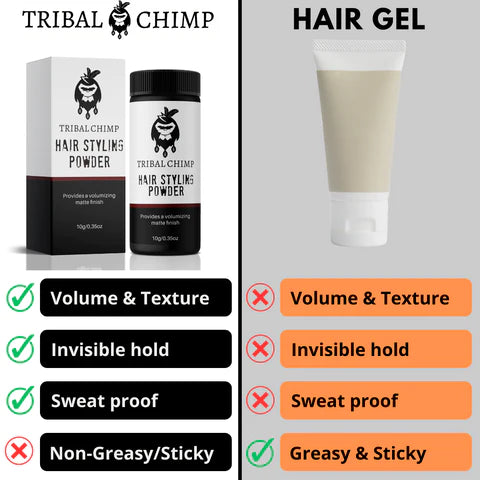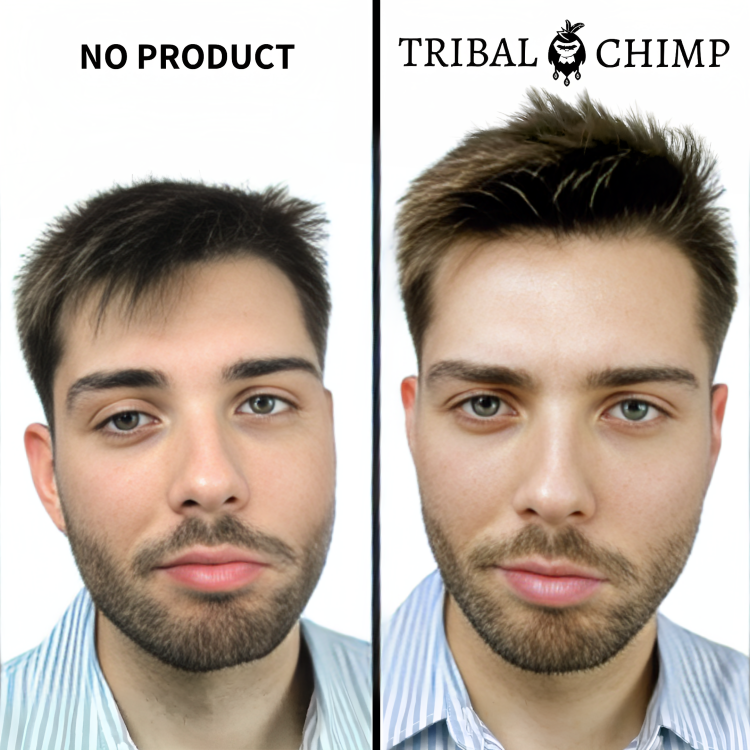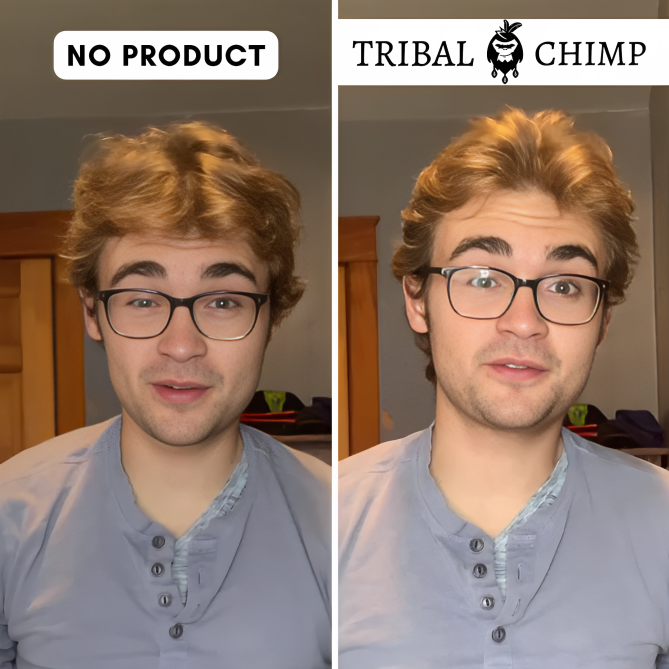 30-Day Money Back Guarantee

At Tribal Chimp we understand it is hard to trust a product that looks too good to be true. That's why we're proud to offer our 30-Day Money-Back Guarantee!
Let's answer your questions!
The bottle seems small, how long does one bottle last?

One bottle should last you anywhere from 4-6 weeks depending on use. We have specially designed the powder to be extremely light so it's not sticky and gives you the perfect 'no-product' natural look.
Can Women use this?

Yes, you absolutely can ladies! Over 20% of our customer base is ladies!
Does it work on thin hair?

Yes, it's the ideal product for people with thin hair. Thin hair lacks volume which is why it is so difficult to style. Our Hair Styling Powder adds instant Volume, Texture & an invisible hold to your hair making your hair super easy to style.
Does it work on thick hair?

Yes, the Tribal Chimp - Hair Styling Powder works great on thick hair. It will create a hold on your hair that allows you to create any hairstyle you want. For guys with extra thick/short hair, we highly recommend the Hair Styling Powder + Styling Clay Combo for the best results.
Will it leave a white residue on my hair or affect my hair color?

No, using the Tribal Chimp - Hair Styling Powder won't leave any residue on your hair. Once you spread it on your hair and style it, the powder seamlessly merges with your hair and does not affect your hair color.
How do I remove it?

No special care needed. Just wash your hair with Shampoo & conditioner like you usually would!